Applied Buddhist Psychology Teachers
Thupten Jinpa
Dr. Thupten Jinpa is a Tibetan Buddhist scholar, former monk and an academic of religious studies and both Eastern and Western philosophy. He has been the principal English translator to the Dalai Lama since 1985. A professor at McGill University, he has translated and edited more than ten books by the Dalai Lama. He established the Institute of Tibetan Classics, where as president and editor-in-chief, he is helping preserve Tibet's rich intellectual, spiritual, and artistic heritage through the translation of many of its seminal texts. He is also an active board member of the Mind and Life Institute, which is dedicated to fostering dialogue between the Buddhist tradition and Western science.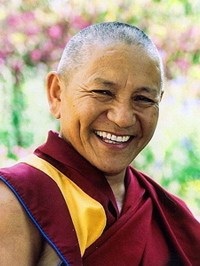 Geshe Pema Dorjee
Geshe Pema Dorjee was born in Tibet and escaped with his family in 1959 at the age of five years old. He attended the Institute of Buddhist Dialectics in Dharamsala, India where he earned degrees in both Prajnaparamitra and Madhyamika. He became a teacher, and eventually the Director of the Tibetan Children's Village School in Dharamsala, where he served for over twenty years, helping to recreate and preserve the Tibetan culture and education system for Tibetan children in exile. In 1995 he was awarded the Geshe degree from the Drepung Loseling monastery in South India and became the first Principal of the College for Higher Tibetan Studies. In 2001, His Holiness the Dalai Lama asked Geshe la to revive and promote the Bodong tradition, and with aid from His Holiness, became the founder and Director of the Bodong Research and Publication Center. The Tibetan government in exile appointed him to the Higher Level Textbook Review Committee as well as spiritual counselor to former political prisoners who had been tortured. In addition to his many charitable projects, Geshe Pema Dorjee has taught and lectured about Tibetan Buddhism around the world and speaks English fluently.
Khensur Rinpoche Thupten Tenzin
Khensur Rinpoche Thupten Tenzin was born high in the Himalayan valley of Spiti. At the age of 8 he took his vows as a monk. He completed his studies in Psychology, Buddhist Philosophy, Debate, Metaphysics and Monastic Discipline at Gaden Shartse Monastery in South India. Upon receiving the highest degrees as a Geshe Larampa, he began teaching and became known throughout the world for his profound understanding and mastery of Buddhist Philosophy. In 2014, His Holiness the Dalai Lama asked him to become the Vice Abbot of Gyuto Tantric Monastery, one of the most prestigious institutions in Tibetan Buddhism. In 2017, he became Full Abbot and held that post until 2020. We are very fortunate to be able to receive his teachings and to be able to learn how to bring wisdom and skillful means together to improve our understandings and the quality of our lives.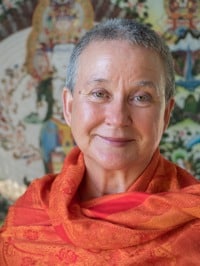 Isa Gucciardi
Isa the Founding Director of the Foundation of the Sacred Stream and the lead instructor for most of its programs. She has been a student of Buddhism for over 50 years, and a teacher of Applied Buddhist Psychology for over 20 years. She developed Depth Hypnosis, a spiritual counseling model which incorporates many facets of Buddhist philosophy. She is the author of Coming to Peace and The New Return to the Great Mother. Isa organized the format and the presentation of these teachings. A former professional translator, she assisted with the translations of this program.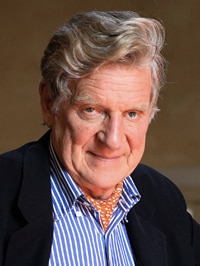 Robert Thurman
A recognized worldwide authority on religion and spirituality, Asian history, world philosophy, Buddhist science, Indo-Tibetan Buddhism, and His Holiness the Dalai Lama, Robert Thurman is an eloquent advocate of the relevance of Buddhist ideas to our daily lives. In doing so, he has become a leading voice of the value of reason, peace and compassion. He was named one of Time Magazine's 25 most influential Americans and has been profiled by The New York Times and People Magazine, among many others. He has written, edited and translated many books on Tibetan Buddhism, and is the Je Tsongkhapa Professor of Indo-Tibetan Buddhist Studies at Columbia University, holding the first endowed chair in this field of study in the United States. In addition, he is the co-founder and president of Tibet House New York.